Table Top ETO Autoclave
Update time:2017-10-24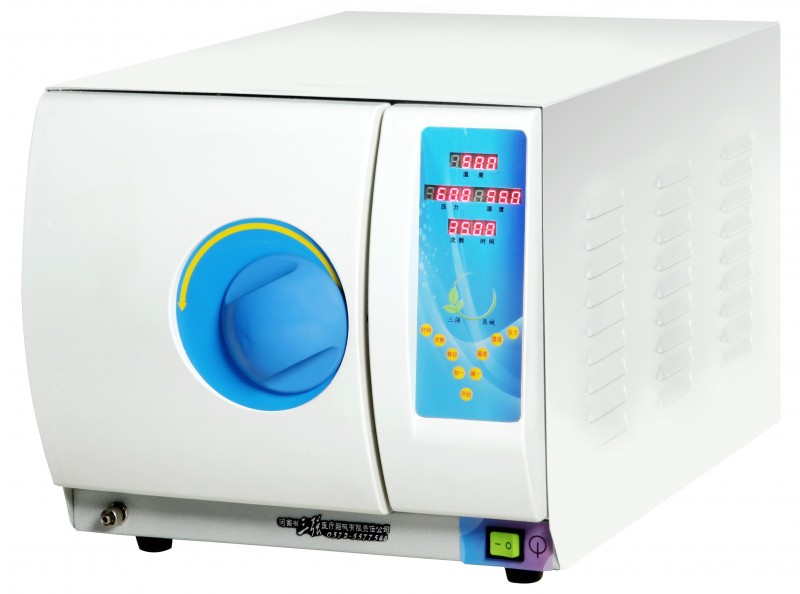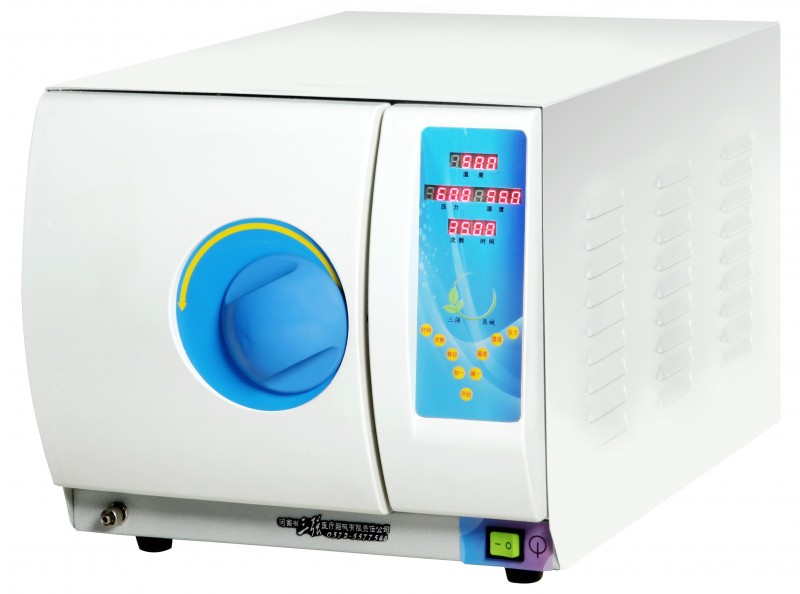 | | |
| --- | --- |
| Volume (L) | 23L |
| Sterilization room size (diameter*depth) cm | φ24*47 |
| Shape dimension (length * width * height) cm | 67×45×40 |
| Weight (Kg) | 40 |
| Standard sterilization time (min) | 0-99Adjustable hours |
| Sterilization temperature(℃) | 50℃±3℃ |
| Gas selection | Pure ethylene oxide gas |
| Power connection | 220V/50Hz |
| Total power(KW) | 1.3 |
| Humidity during sterilization | 45%-75% |
| Working pressure | -60kpa |
| Single use of ethylene oxide | 30g |
[air replacement] automatic ventilation, cycle ventilation 5 times, interval 15 minutes once
[automatic control system] one button start to end, automatic completion of the whole process
[display] state display temperature, humidity and pressure, sterilization time, processing time, the number of residual gas
[printer] using micro printer, print out the whole process of sterilization each minute of data, can be permanent preservation。
[humidity sensor] built-in humidity sensor automatic detection of cavity humidity, to ensure that the cavity humidity is not less than 45%RH。
[pressure sensor] built-in pressure sensor automatically detects cavity pressure, to ensure the accurate and effective pressure inside the chamber.
[temperature sensor] built-in temperature sensor, automatic detection of cavity temperature, to ensure that the cavity temperature is maintained at 50 degrees C + 3 temperature within the precise range.
[vacuum system] using oil-free vacuum pump, simple and convenient, fast vacuum speed, long service life。
[circulation device] when the water temperature in the heating tank exceeds 85 degrees, the heater should be automatically stopped heating;
[sealed door] anti pressure 200Kpa, EO gas never leak。
[humidifying system] pulse humidification under vacuum condition, ensure the humidity of the cavity is even and controllable; the humidity of the sterilizing room should be controlled within the range of relative humidity of 55% + 20%;
[] residual processing device filter on particle diameter of more than 0.3 m the filtering rate of not less than 99.5%.
[sterilization room] leak rate determination of leakage rate at no-load, sterilization room temperature constant, test pressure -50kPa, time 1H were determined under the conditions of determination of time average leakage rate less than 0。16kPa/min。
[rate] vacuum under no-load condition, atmospheric vacuum sterilizer from time to -60kPa should be less than 30min.
[automatic dosing] the first domestic sterilization chamber piercing technology, to ensure the full use of gas, zero leakage, more safe and reliable.
[heating system] adopts explosion proof electric heating device
[a variety of protective functions] with over-voltage, over temperature protection function, more safe and reliable.
[alarm system] has high temperature alarm system, ultra low pressure alarm system
[category] class II medical devices