low temperature plasma sterilizer
Update time:2019-06-26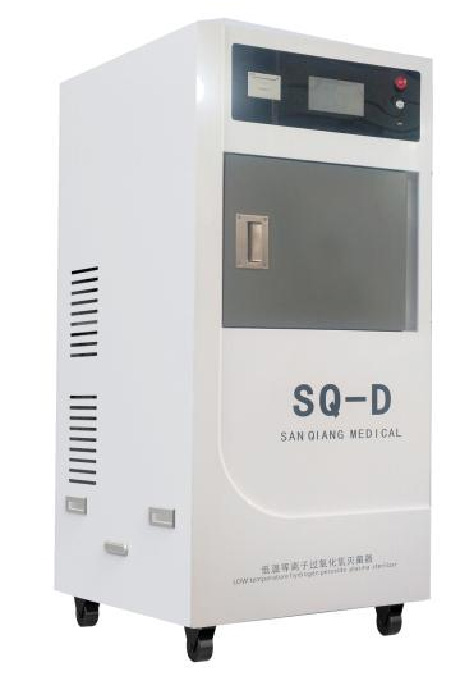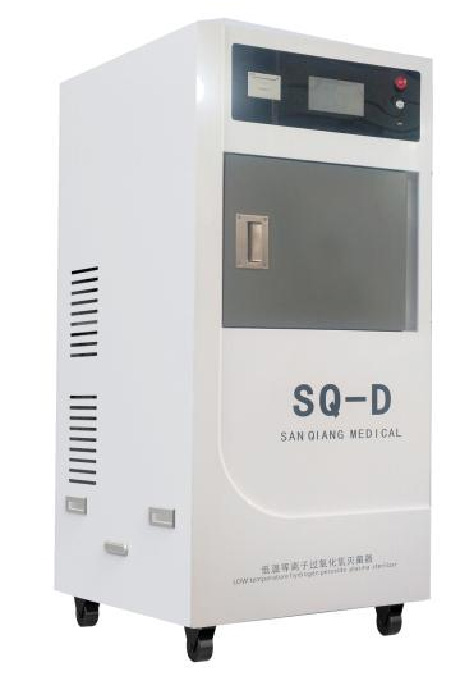 [product name] low temperature plasma sterilizer
[product model] SQ-D-60
[product form] manual door vertical
[heating method] electric heating
[power] 2.6KW
[Power] AC220V, 50Hz
[sterilization room size] (L*W*H): 750 × 630 × 1510mm
[Outline dimension] (L*W*H): 610 × 350 × 320mm
[effective volume] 60L
[weight] 174kg
[Temperature display] LCD touch screen
[temperature during sterilization] 50 °C ± 5 °C
[Select sterilizing agent] Hydrogen peroxide (H202)
[hydrogen peroxide concentration] 60%
[Sterilization time] 45±3 minutes
[vacuum speed] 5 minutes to 50pa
[Operational height] ≤160cm, the operating height is reduced, and it is more user-friendly considering the convenience of women's operation.
[Sterilization room material] The cavity structure is rectangular, which improves space utilization; the cavity material is made of 304 anti-corrosion stainless steel or aluminum.
5052, thickness ≥ 8mm, has excellent thermal conductivity, to ensure that hydrogen peroxide maintains 100% gas.
[outer box material] carbon steel baking powder and glass steel
[Electrode mesh material] Aluminum alloy material 5052, sheet metal forming, thickness ≥ 2mm。
[Loading method] The upper and lower two-layer aluminum alloy punching plates are loaded with sterilized articles, which have large loading capacity and high space utilization rate. [sealed door material
Quality] 5052 aluminum alloy material, thickness ≥ 15mm。
[Door opening method] Manual right sliding door
[Cell temperature heating power] Preheating heating time ≤ 30min. The cavity heating power can be satisfied, and the heating time will be faster.
[Main body insulation] ≥20mm sound-absorbing cotton, with low thermal conductivity, good fire resistance, strong anti-aging ability, non-toxic environmental protection and external
The high-grade texture is soft and so on。
[Full-automatic control system] LCD touch screen display PLC circuit design, safe and reliable; one-button start to end, all over
The process is completed automatically, showing the temperature, pressure, and sterilization time。 The system can maintain the upgrade。
[Printer] Using a micro-printer, it prints out every minute of data in the whole process of sterilization, and can be permanently stored. were able
Print record: program name, sterilization date, sterilization pot, sterilization start time, sterilization process pressure and temperature
Information such as change data, phase time and end status, and print samples are provided.
[PLC] adopts imported Siemens smart series PLC control system。
[Display] uses a 7-inch color touch screen with a communication speed ≥19。2Kbps。
[Display Status] Temperature, pressure, time, cycle mode, process phase and alarm information, etc., and provide actual interface photos.
[U disk storage function] The disk capacity is ≥8G, which can store ≥100 million sterilization data, and the storage information includes the program serial number.
Sterilization date, sterilization pot, sterilization start end time, and pressure, temperature, phase time, and end state of the sterilization process, etc.
Information and provide computer print samples.
[Pressure sensor] Built-in pressure sensor uses imported sensors from Japan to automatically detect intracavity pressure and ensure intracavity pressure。
The accuracy of the force is controlled within the effective range.
[Temperature sensor] Built-in temperature sensor automatically detects the temperature inside the chamber, ensuring that the temperature inside the chamber is kept at 50 °C ± 5 °C.
Within the scope。
[Program System] There are two procedures: enhanced cycle and fast cycle. Strengthen the cycle ≤ 50 minutes, fast cycle ≤ 30 minutes.
[Vacuum system] It adopts imported vacuum pump from Germany, which is simple and convenient, with fast vacuum speed and long service life。
[Evacuation Control Valve] The high vacuum baffle solenoid valve is used to control the evacuation line。
[Oil mist filter] The product has an exhaust oil mist filter system, which can recover oil mist and prevent oil mist from entering the air.
And through pump suction, the pump oil is returned to the pump for repeated use to reduce fuel consumption.
[Air filter] The filtration accuracy is 0.2 μm or less.
[Plasma power supply] adopts transistor control power supply, power ≤900W, with stable power output, high frequency accuracy, etc.
point.
[Hydrogen peroxide filling method] self-priming injection type.
[Sterilization effect] The first manufacturer in China to completely sterilize the channel-type devices from 2 meters to 4 meters。 Provide provincial level or above
Sterilization effect test report during the period of the organization.
[Heating system] The explosion-proof flame-retardant heating system is adopted, the temperature is more uniform and precise, and it is convenient and quick.
[Electromagnetic Compatibility Test] Provides electromagnetic compatibility test report for inspection institutions above the provincial level。
[Multiple protection functions] With over-voltage and over-temperature protection, and a fault display on the LCD screen, let the after-sales
Faster. Better handle the point of failure.
[stop casters] have
[Alarm system] has high temperature alarm system
[Category] Class II Medical Devices