Pulse&Vacuum Type
Update time:2017-07-06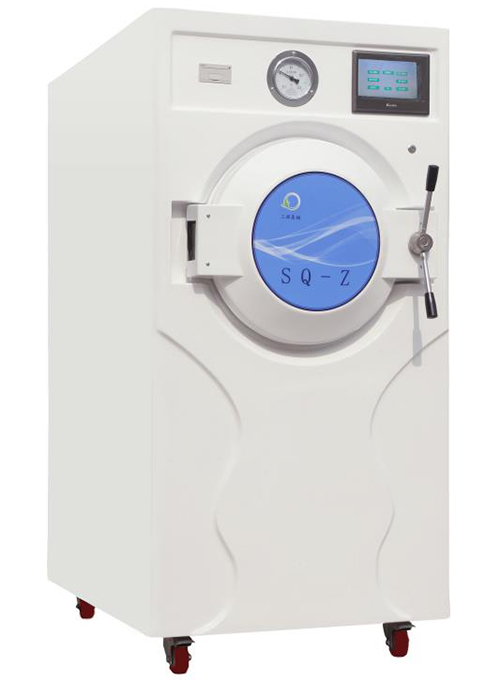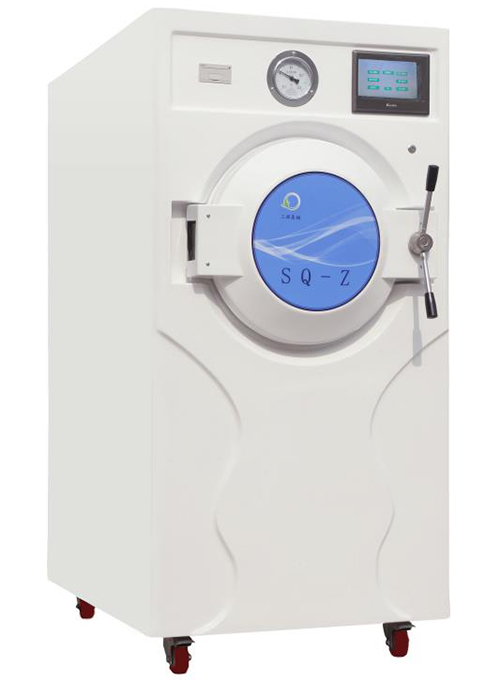 Specification
| | | |
| --- | --- | --- |
| Model | SQ-Z12 | SQ-Z60 |
| Volume | 100L | 200L |
| Type | Vertical | Vertical |
| Heating method | Electric | Electric |
| Power | 10。0KW | 20.0KW |
| Power supply | AC380V,50Hz | AC380V,50Hz |
| Carton size | 1150x770x1520mm | 1190x810x1580mm |
| Chamber size | 420×700mm | 500×1000mm |
| Net weight | 263kg | 305kg |
| Temperature display | LCD | LCD |
| Designed pressure | 0.29MPa | 0.29MPa |
| Rated working pressure | 0。21Mpa; | 0。21Mpa |
| Designed temperature | 121℃/134℃ | 121℃/134℃ |
| Pulse times | 0~99 | 0~99 |
| Sterilize time | 0~9999 seconds | 0~9999 seconds |
| Drying time | 0~9999 seconds | 0~9999 seconds |
【Chamber safety valve】open≧0.23Mpa,close≦0.21Mpa;
【Pulse amplitude value】positive value 0.065Mpa~0.09Mpa,negative value -0.06Mpa~-0.08Mpa
【Pressure controller set】up switch value 0。23Mpa, down switch value 0。21Mpa
【Generator water source】soften water or purify water, the water temperature ≤45℃,water pressure 0~0。05 Mpa
【Vacuum pump water source】running water(should not be too hard), water pressure 0.10Mpa~0.20Mpa
【Air output】more than 99% (pulse more than 3 times)
【Vacuum drying】avoid the sterilized item wet after sterilization.
【Pulse exhaust】Positive pressure dynamic pulse exhaust, eliminate the chamber indoor cold air completely, to ensure that the steam saturation
【Procedures】Equipped with liquid, culture medium sterilize thermal insulation, culture medium dissolved insulation, glass, utensils, rubber, a variety of procedures to choose。

Microcomputer control technology
The sterilizer using intelligent control of the microprocessor, man-made interface, easy to operate, safe and reliable. The parameters and status of the process are displayed dynamically through the digital screen. Vacuum, water injection, heat up, sterilization, pressure relief, exhaust, dry, power off automatically; equipment abnormal work automatically detect and alarm; fault automatic diagnosis, over-temperature, over-pressure automatic protection to ensure the reliability of sterilization. After the sterilization is complete, the buzzer automatically prompts that the ED display is complete.
Locking device
Before the sterilization cycle is started, the interlock is unlocked when the door is closed, and the door can be closed and turned on repeatedly。 Only the door closed in place, the sterilizer can start running, in the course of the sterilizer door should not open。 After the start of the cycle operation, if the failure and fault indication, the sterilization room is not fully released, interlock device should be locked, the sterilizer door should not open。
【Pulsation mode】 Microcomputer control according to site conditions automatically select the number of pulse to ensure the coordination of temperature and pressure.
【Vacuum】 Three times pre-vacuum, to ensure heating more faster, sterilization more thoroughly。
【Safety valve】 When the sterilizer pressure reaches 240kPa ± 5kPa, the safety valve automatically open to relief the pressure.
【Overpressure protection procedure】 When the sterilization chamber pressure reaches 220 ± 5kPakPa, there is a tone and can automatically pressure relief。
【Air Leakage】 When the sterilizer is tested at each stage, the pressure rise rate should not be greater than 0.13kPa / min.
[Sterilization chamber dynamic pressure] The pressure change during any 2s interval during the sterilizer cycle should not exceed 1000 kPa / min。
[Vacuum pump] Using a bowl of oil-free vacuum pump, simple and convenient, fast vacuum rate, long service life。 To ensure that the vacuum can reach-80kpa;
【Pressure sensor】 Built-in pressure sensor automatically detects the pressure inside the chamber to ensure accurate and effective pressure inside the cavity。
【Temperature sensor】 Built-in temperature sensor automatically detects the temperature inside the cavity to ensure that the cavity to maintain the use of temperature within ± 3 ℃ within the precise range.
【Sterilization mode】 Were bare equipment, cotton yarn, parcel, plastic and rubber products, the default operating temperature of 135 ℃.
【Automatic drying】 Strong vacuum drying, for different items dry demand; equipment residual humidity<0.2%.
【Steam inside the row】 Built-in condensate collector, waste steam will be exclusion after condensed by the condenser, not outside the row of waste steam, more safe and clean.
【Seal structure】 Seal ring for the silicone products, design life of 2 years (1200 times) is not aging is not deformed.
【Casters】 Yes
【Alarm system】 Has a high and low temperature alarm system
【Category】 Class B medical equipment